Sign Posts :: Standard Road Traffic Sign Posts
Aluminium posts have a smoother, more polished finish compared to steel posts and are about 3 times lighter. Aluminium posts are used more frequently where appearance and weight is of greater importance.
Steel Posts are finished in a textured grey plastic coating and are generally used for industrial applications such as highway signs, and where larger panels are to be used. Steel posts are about 3 times heavier than aluminium posts.
Wide base posts are used when road signs require illumination to be added. The base of the post is wider to accomodate electrical fittings.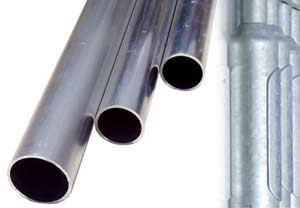 Sign post Price
Price: £0.00
(&pound0.00 incl VAT)
All our signposts include baseplates AND post endcaps
Advice on Fixing Signposts
We strongly recommend the use of below ground base plates when installing signposts. These prevent the rotation or removal of the posts after the concrete has set.
Sometimes it is easier to cast a concrete foundation without supporting the weight of the post.
It can also be an advantage to undertake the groundwork before taking signposts to the site. In these instances it can be particularly useful to use foundation sleeves. These ribbed plastic sleeves can be pre-cast into concrete foundations allowing signposts to be light cast or sand filled at a later date.


Baseplate (left) Foundation Sleeve (right)
---
Sign Post Mounting
There is no hard and fast rule about how deep a hole should be dug for receiving a sign post but the table below is a rough guide and is a good starting point. If you are at all unsure, please contact your local civil engineering department for confirmation.
| | |
| --- | --- |
| Post Height | Planting Depth |
| 1000mm (1 metre) | 300mm |
| 2000mm (2 metres) | 500mm |
| 3000mm (3 metres) | 600mm |
---
Wall Thickness of Aluminium Round Posts
DIAMETER
POST LENGTH
1000mm
1500mm
2000mm
2500mm
3000mm
3500mm
4000mm
4500mm
5000mm
6000mm
50mm
2.50mm
2.50mm
2.50mm
2.50mm
2.50mm
2.50mm
2.50mm
2.50mm
2.50mm
2.50mm
76mm
3.50mm
3.50mm
3.50mm
3.50mm
3.50mm
3.50mm
3.60mm
3.60mm
3.60mm
3.60mm
89mm
4.05mm
4.05mm
114mm
4.25mm
4.25mm
140mm
4.50mm
4.50mm
4.50mm
4.50mm
---
Safety Signs
|
Road Signs
|
Stanchion Signs
|
Temporary Road Signs
---
All major credit cards accepted. Thawte approved and secure site.

Safety Signs - Owned and Operated by BCW Office Products LTD registration 05693956, VAT 900 3466 61.
(c) 2018 BCW. Website design Large Format Photography Gallery All rights reserved.