Floors
If floors are being cleaned or polished or are inherently slippery, this must be addressed immediately with a wet floor sign or slippery surface sign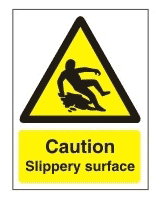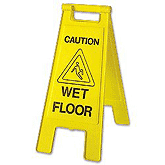 Additionally, if floorboards are damaged or uneven, trailing electrical cables are present then display a trip hazard warning sign


Stairs
Keep stairs in good condition with good lighting and a well fixed handrail. Also make sure stairs are kept clear of obstructions. If in doubt, display a keep clear sign.
Shelving
Make sure that items are easily retrievable without resorting to standing on a chair or desk. If it is unavoidable to have items high up, make sure that proper steps are used. It may also be advisable to create a sign to enforce this. See our bespoke signs section.
Fire Safety
One of the most important areas in Health and Safety is fire prevention, fire action and escape. An excellent starting place is with our Fire Risk Assesment Checklist booklet and Fire Risk Assesment Poster which will give you excellent help and advice.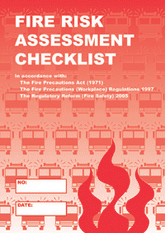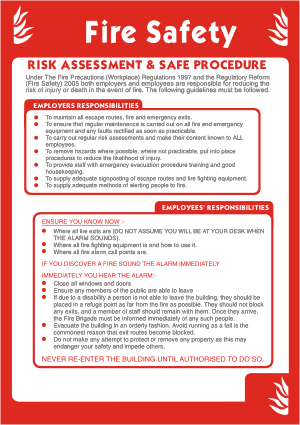 Display a Fire Action Sign and doors that have been marked as Fire Doors must never be propped open. Also the emergency escape route must be kept clear of obstructions and be clearly marked out every step of the way by signage. Common signs for these purposes are:
Computer Display Screens
Working in front of a computer screen for over 3 hours a day could result in a repetitive strain injury (RSI). Make sure that desks are larege enough to accomodate paperwork, monitor and keyboard. The screen should be free from glare and reflection. It is advisable to display the Health and Safety Display Screen Equipment Regulations poster.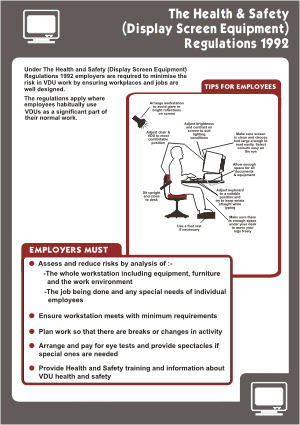 Manual Handling
Ensure that your work environment does not pose a major risk to the back. Such injuries are often incured when lifting heavy items incorrectly. Make sure your employees know the correct method of lifting by displaying the Manually Handling Regulations Poster.