Large Business Health and Safety Signs Starter Pack
Contains all you need for legal compliance
---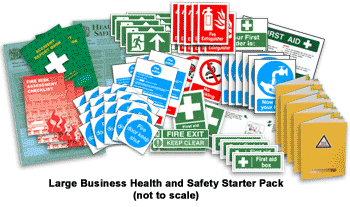 Here you have all the things neccessary for a large businesses to be compliant with health and safety regulations. The kit includes:
2 x Health & Safety Law poster
10 x Fire Exit sign
10 x Fire Exit Keep clear sign
6 x Fire Action sign
20 x Fire Extinguisher sign
20 x Fire Door Keep Shut sign
4 x Fire Point sign
8 x No Smoking sign
6 x First Aid Post sign
2 x Accident Report Book
3 x Fire Risk Assessment Book
2 x Fire Assembley Point First Aider Is sign
6 x Now Wash your Hands sign
1 x First Aid Poster
4 x First Aid Box Know your Fire Extinguisher
5 x Safety Awareness Booklet

Normal Price: £500.55

Kit Price: £450.49 (£529.33 inc. vat)


---
Safety Signs
|
Road Signs
|
Stanchion Signs
|
Temporary Road Signs
---
All major credit cards accepted. Thawte approved and secure site.

Safety Signs - Owned and Operated by BCW Office Products LTD registration 05693956, VAT 900 3466 61.
(c) 2018 BCW. Website design Large Format Photography Gallery All rights reserved.